Dry eye disease may seem insignificant, but it can be an irritating and uncomfortable eye condition. You may not notice problems at first, but this condition can lead to several annoying symptoms. With treatment, you can find relief from dry eyes.
Many eye doctors prescribe eye drops for dry eyes, but what are the best options? Continue reading to learn more about dry eye disease and the best eye drops for this condition.
What is Dry Eye Disease?
Dry eye disease is a condition where your tears can't lubricate your eyes effectively, leaving you with irritated and red eyes. Your tears help keep your eyes clean and free of debris, but complications can arise. These issues typically occur because of instability within your tear film, causing several uncomfortable symptoms to develop.
These symptoms include:
A stinging or burning sensation in your eyes
Light sensitivity
Red eyes
Watery eyes
Blurred vision
Eye fatigue
Difficulty driving at night
Difficulty wearing contact lenses
These symptoms develop due to complications within the tear film's layers (oil, aqueous fluid, and mucin). There are typically 2 causes of dry eye disease, decreased tear production or increased tear evaporation.
What Causes Dry Eye Disease?
Decreased Tear Production
Tear production tends to slow with age. Older adults are at more risk of developing dry eye disease, but age is not the only factor contributing to tear production; others include:
Increased Tear Evaporation
Increased tear evaporation occurs because of poor tear quality, typically caused by complications in the oily layer of the tear film. Your tears moisturize your eyes each time you blink, with the oily layer preventing evaporation. Tears dry quicker when complications develop in the glands releasing this oil.
These glands can become blocked, causing a condition known as meibomian gland dysfunction. Other factors can contribute to increased tear evaporation, including:
Infrequent blinking
Eye allergies
Wind, smoke, or dry air
Millions of Americans experience dry eyes, needing treatment to reduce irritation and inflammation. Your optometrist has several treatments available for dry eye disease, including eye drops. If you experience dry eyes, what are the best eye drops to treat this condition?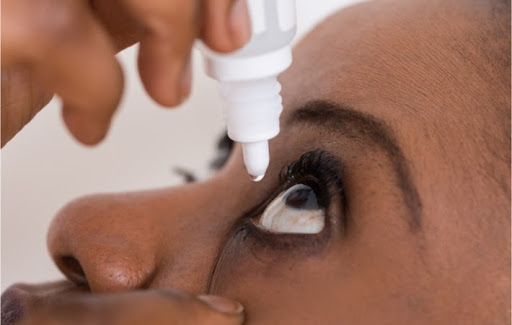 The Best Eye Drops for Dry Eyes
You have several options when choosing eye drops for dry eye disease, including over-the-counter and prescribed treatments. Your optometrist can help determine the best eye drops for you, but these options include:
Over-The-Counter Eye Drops
Over-the-counter eye drops, or artificial tears, are typically the first option someone looks at when they're experiencing dry eyes. They simulate real tears, providing moisture and temporarily relieving dryness.
Artificial tears consist of many different ingredients, depending on the brand. Some of these elements include:
Lubricants
Electrolytes
Guar gum
Preservatives
Preservatives can help eye drops last longer, but some people find that they can irritate dry eyes further. In general, over-the-counter options may not be as effective as prescription eye drops.
Xiidra
Xiidra eye drops are anti-inflammatory; designed to treat symptoms of dry eye disease.
This product blocks a specific protein that appears on the surface of cells in your body. This protein can affect your eye's ability to produce enough tears or create tears that lack the consistency needed to keep your eyes healthy.
If you receive Xiidra eye drops, follow your optometrist's instructions diligently. Don't use more than the recommended dosage.
Restasis
Restasis eye drops are ideal for chronic dry eyes caused by inflammation. These drops contain cyclosporine, an immunosuppressant that can benefit tear production. Restasis eye drops can help increase tear production in eyes affected by inflammation.
Like Xiidra, follow your optometrist's instructions and don't use more than the recommended dose.
Systane Complete
Systane Complete offers eye drops that provide fast relief of dry eye symptoms. It hydrates and protects your eye's surface while preventing tear evaporation.
Similar to Xiidra and Restasis, speak with your optometrist to understand the recommended dosage of this product. If you're not interested in eye drops, your eye doctor can offer other dry eye treatments to address your needs.
Alternative Dry Eye Treatments
There are several dry eye treatments available today. Your optometrist can help determine the best option for you. Dry eye treatments include:
Heated treatments
Supplements
Eyelid treatment
Regardless of the solution, you deserve to feel relief from dry eyes. A comprehensive eye exam can help your optometrist identify any present issues before creating a customized treatment plan.
Don't Suffer From Dry Eyes
No one should have to suffer through dry eyes alone. With the right treatment, your optometrist can help you find relief. If you're experiencing symptoms of dry eye disease, book an appointment today.